Do you care enough about your country to take note of our many fine recipes?
No? You losers!
Get into your kitchens and whip up something patriotic today!
Be sure to offer your burned or undercooked portions to your American colleagues or acquaintances. A little indigestion helps the cause immensely, sweeties.
Go now, and grease your pie tins in the great spirit of our upcoming tyranny!
---
Canadian Oriental Ribs of Terror
Nanaimo Bars of Deadly Strength
Tourtière Très Terrible
Maitres Chez Nous Quebec-Style Baked Beans
Weapons of Mass Destruction Moose Roast
Cured Salmon of Militant Force with Crowd Control Mustard Cream
Genocidal Grilled Arctic Char Salad with Avacado and Pear
Child Indoctrination Ontario Cheddar Cheese Soup
Early Warning System Salt Cod Chowder
Ground Zero Baked Stuffed Rabbit
Ready Capitulation Patridge Soup
Seal Flipper Pie of Political Protest
Mutually Assured Destruction Double Chocolate Oatmeal Cookies
French Canadian Ratatouille of Well-Aimed Wrath
Acadian Sugar Pie of Environmental Exploitation
Barely Breathing, Bone Crushing Bannock
Realpolitik Canadian Maple Dumplings
Maple Syrup Pudding of Strategic Policy
Ginny's 'Power To Manipulate' Butter Tarts
Peter Downey's CANDU ThermoNuclear Bombs
Horrifyingly Hearty Wienie Chowder
Kirsten's Opium For The Heathens - Coca Cola BBQ Sauce
Liz's "Pets de Soeur" (Nun's Farts)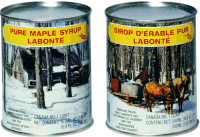 Canadian Oriental Ribs of Terror
(A maple syrup base just makes sense!)
Trim excess fat from 3 to 4 lbs (1.5 to 2 kg) back ribs.
Then precook ribs.
In a medium-size saucepan, stir together:
1/2 cup pure maple syrup
1/4 cup sherry
2 tbsp each vegetable oil and soy sauce
2 crushed garlic cloves
1 to 2 tbsp finely grated fresh ginger
Bring to a boil over medium heat and boil gently, uncovered and stirring often, for 5 minutes to develop flavors. Drain precooked ribs well and cut into serving-size pieces, about 3 to 4 ribs per section. Oil grill and preheat barbecue. Brush ribs with maple syrup mixture. Place coated ribs on grill and barbecue, turning ribs every 5 minutes and basting with remaining maple syrup mixture, until heated through, about 15 to 20 minutes.
Nanaimo Bars of Deadly Strength
(Good for subduing dissidents!)
Ingredients:
1/2 cup butter
1/4 cup white sugar
3 1/2 tbsp cocoa
1 tsp vanilla
1 egg
Pinch of salt
1. Cook above items until thick
2 1/2 cups graham crumbs
1/2 cup walnuts chopped
1 cup coconut
2. Mix first and second mixtures together and press into 9 inch x 9 inch pan.
1/4 cup butter
2 cups icing sugar
2 pkg instant vanilla pudding
3 tbsp milk
3. Mix and spread on the pie crust mixture, set for 15 min. in fridge
4. Melt 2 squares of unsweetened chocolate and 1 tbsp of butter, pour over top.
5. Chill till set.
(A meat pie with attitude!)
1 lb ground veal
1/4 cup water
1 lb ground pork
1 teaspoon salt
1/2 cup chopped onion
1/4 teaspoon pepper
1 recipe pastry
Prepare pastry; reserve 1/2 the pastry for top crust and line a 9-inch pie plate with remainder. Combine all ingredients together in a saucepan. Cook over medium heat until meat has lost its pink colour but is still moist; cool. Roll out top crust, make slits in centre to allow steam to escape. Pour meat mixture into pie shell; cover with top crust, seal and flute edges. Bake in a hot oven (425°F) 20-25 minutes or until browned. Baked tourtière may be frozen and re-heated before serving.
Maitres Chez Nous Quebec-Style Baked Beans
(Beans with political autonomy!)
2 cups white navy beans
1/4 cup brown sugar
6 cups cold water
1/2 cup molasses
1 tsp. salt
1 tsp. dry mustard
1 cup chopped onion
1/4 tsp. pepper
1/2 pound salt pork
1 tsp. salt
Wash beans, add cold water and soak overnight. Next day, add 1 teaspoon salt, bring to a boil and simmer until the skins split when blown on gently (about 30 minutes). Drain beans, saving liquid. Pour half the beans in 2-quart bean pot and sprinkle with onion. After scoring rind, place pork skin side up on beans. Add remaining beans, allowing rind of pork to show. Combine remaining ingredients with 2 cups of the bean liquid and pour over beans (liquid should cover beans). Cover and bake 6 to 7 hours at 250° F, adding more liquid as required. Uncover for last 30 minutes of cooking.
Weapons of Mass Destruction Moose Roast
(Good for disabling large populations!)
3 pounds moose roast (tender cut)
4 tablespoons butter
1 tablespoon dry mustard
Salt and pepper
Parsley
A pinch of thyme
1 medium sliced onion
4 ounces dry red wine
Heat oven to 400 F (220 C). Sprinkle roast with salt and pepper. Mix butter and mustard together. Spread this mixture onto the lean parts of the roast. Place onion slices in the bottom of a shallow roasting pan. Lay roast on onion slices and sprinkle with parsley and thyme. Cook roast for 10 minutes, lower heat to 325° F (170° C), and cook for :
- 18 min./ pound (1/2 kg) for rare
- 20 min./ pound (1/2 kg) for medium
- 22 min./ pound (1/2 kg) for well done
Do not cover roast while roasting; baste every 15 minutes. Fifteen minutes before end of cooking, add wine. To serve, pour cooking juices on slices of roast.
Cured Salmon of Militant Force With Crowd Control Mustard Cream
(Put down unruly uprisings with class!)
2 salmon filets, skin intact, about 8 to 10 oz. each
1/4 c. kosher salt
3 T. granulated sugar
several grinds of pepper
lots of fresh dill sprigs
To serve:
thin sliced red onion rings
chopped capers
crackers, rye bread, toast triangles
mustard cream
To cure the salmon, place one filet skin down on a platter with a deep lip. Mix salt, sugar and pepper and sprinkle half over the salmon, applying more on the thicker part, less near the tail. Spread the mixture with your fingers so that it covers the entire surface. Repeat with the remaining salt mixture so that you have a heavy coating over the salmon. Top with dill sprigs and place the second filet on top, head to tail, skin side up.
Loosely cover with plastic wrap and weigh the salmon with a large plate weighted down with two large, full cans of food, like tomatoes, or a brick or rock. Refrigerate the salmon and turn the filets twice a day, lifting the two filets together and turning all at once. Baste with the juices that collect in the bottom of the platter.
Cure salmon for four full days. When ready to serve, place one filet skin side down on a cutting surface. Remove herb sprigs and slice salmon thinly on the diagonal. Store unused salmon, covered, in the fridge. Serve atop crackers, rye bread or toasts with onion rings, capers and mustard cream.
Serves about 12.
Mustard Cream:
blend 1 c. sour cream with 1/4 c. half-and-half,1/4 c. Dijon mustard, salt and freshly ground black pepper to taste.
Genocidal Grilled Arctic Char Salad with Avocado and Pear
(If you're going to bother with salad, at least make sure it's a genocidal one!)
1 lb. Arctic char filet
4 T. good olive oil
2 T. lemon juice
1 garlic clove, minced
salt and pepper to taste
2 ripe avocados, thinly sliced
2 ripe pears, thinly sliced
mesclun greens (spring mix) or lettuces of your choice
balsamic vinaigrette
Whisk together the oil, lemon juice, garlic and salt and pepper and pour it over the Arctic char filet (or, if you have a bit of leftover oil and vinegar-type vinaigrette, use that). Marinate, spooning vinaigrette over the fish occasionally, for about one hour.
To make vinaigrette:
Whisk together 4 T. extra virgin olive oil, 2 T. balsamic vinegar, salt and pepper to taste.
Grill Arctic char on a well-oiled, hot barbecue, skin side down first, turning once, until just cooked, about five minutes skin side, three minutes flesh side. Keep a close eye on the fish and don't let it overcook. Cut flesh from the skin into three or four fingers per person. Toss greens with vinaigrette, arrange on individual plates and top with char fingers fanned out from the center alternately with avocado and pear slices. Top with a grind of fresh pepper.
Child Indoctrination Ontario Cheddar Cheese Soup
(Because it's about time Canada's youth stopped thinking independently!)
Use mild, medium or sharp cheddar, although sharp produces the best flavour.
3 T. butter
2 carrots, minced
2 celery stalks, minced
1 onion, minced
1/2 c. cooked ham, minced (optional but nice)
4 mushrooms, minced
4 T. flour
1/2 t. each paprika and dry mustard
4 c. chicken broth
2 c. milk
2 to 3 c. Ontario cheddar, grated
salt and pepper
chopped fresh herbs (dill, cilantro, basil, parsley, or a combination)
Melt butter in a large, heavy saucepan and add carrots, celery, onion, ham and mushrooms and brown a bit over high heat. Turn heat to medium and cook until crisp-tender. Sprinkle in flour, paprika and dry mustard and stir over low heat to blend well, about five minutes.
Gradually whisk in chicken broth and milk and stir until slightly thickened. Add cheese and whisk until melted; be sure soup doesn't boil after cheese is added. Season with salt and pepper and serve garnished with chopped fresh herbs.
Early Warning System Salt Cod Chowder
(Because there's nothing better for you than salt cod!)
1 lb. salt cod fish
1/4 cup finely diced fat salt pork
1 medium thinly sliced onion
3 cups diced raw potatoes
1 cup diced raw carrot
3 cups boiling water
1 tsp. salt
1/2 tsp. pepper
1 cup canned corn niblets
3 cups heated milk
Freshen salt cod by soaking it overnight in cold water to cover. Drain, and place in a stewing pot, and cover with fresh water. Bring to simmer with low heat, Drain, if the fish is still too salt, add fresh cold water, and bring to simmer again, and drain. Fry salt pork in stewing pot until crisp. Remove fried pork scraps and reserve for garnish. Cook onion in pork fat until tender. Add potatoes, carrots, water, salt, and pepper and cook covered about ten minutes, or until vegetables are tender. Add corn and heated milk and freshened salt cod. Bring chowder to a simmering temperature, but do not boil. Garnish with the pork scraps. Serves 8 to 10. Serve hot, with freshly baked home made bread or rolls and butter.
Ground Zero Baked Stuffed Rabbit
(If you're going to bake a rabbit, you might as well stuff it too!)
rabbit (bunny ... Mr. Fluffy ... whatever)
4 cups of fine bread crumbs
2 tbsp. onions
1/4 cup margarine
three or four thin slices of salt pork
1/2 tsp. salt
2 tbsp. savory
1/4 tsp. pepper.
Gravy: 2tbsp. flour, dairy sour cream
Pastry: 1/3 cup margarine, 1 cup flour, 1 tsp. baking powder, 1/2 tsp. salt, 2 or 3 tbsp. cold water.
Dressing:
In a mixing bowl, mix together 4 cups of bread crumbs, 2 tbsp of chopped onion, 1/4 cup of soft margarine, 1/2 tsp. salt, 2 tbsp. savory, and 1/4 tsp. pepper.
Cooking:
Stuff the rabbit with the dressing and fasten with skewers. Place in roasting pan and lay four or five slices of fat port across the top. Add a little water and cover the pan. Bake at 350F degrees or until the meat is tender (about 25 minutes per pound.)
Remove from oven and make gravy.
Gravy:
Skim fat from cooking liquid, reserving 2 tablespoons. In a saucepan, heat the 2 tbsp. fat and blend in 2 tbsp. flour. Gradually stir in 1 cup of the liquid remaining in the roasting pan from the meat. Cook, stirring until thickened. Mix in 1 cup of dairy sour cream and heat thoroughly.
Pour the gravy over the rabbit and cover with pastry. (See recipe which follows.) Return to oven. Bake at 450F degrees until the pastry is browned. Serve at once
Pastry:
Cut margarine into flour, baking powder, and salt until the mixture resembles bread crumbs. Sprinkle in water, 1 tbsp. at a time and mix. Gather the pastry into a ball and place on lightly floured board. Roll out the pastry to the correct size to cover the rabbit.
Ready Capitulation Partridge Soup
(Defeat tastes like partridge!)
1 lb. salt beef
1 or 2 partridge
1 diced turnip
2 diced carrots
1 finely chopped onion
1/2 cup of rice
Fill soup pot almost full with hot water. Cut salt beef into 1" cubes. Cut partridge into small pieces. Add salt beef and partridge to water. Cook for about 1 1/2 hours. Add diced carrots and turnip and cook for 10 minutes. Add rice and onions and cook for 20 minutes more. Serve hot.
Seal Flipper Pie of Political Protest
(After you've clubbed the seals and skinned their pelts, those flippers aren't just for trash any more!)
2 seal flippers
1 tbsp. baking soda
2 tbsp flour
salt
pepper
1/4 lb. salt pork cut into small cubes
1 chopped onion
2 diced carrots
1 diced turnip
Pastry:
1/3 cup margarine
2 cups flour
2 tsp. baking powder
1/2 tsp. salt
2 or 3 tbsp. cold water.
Soak the seal flippers for 1/2 hour in cold water to which 1 tbsp. of baking soda has been added. The fat will turn white. Remove all the fat. Mix 2 tbsp. of flour with salt and pepper. Dredge the flippers with the flour mixture. Cook the salt pork in a fry pan. Fry the flippers until brown in the rendered salt pork fat. Add a little water and simmer until partly tender. Put the flippers in a roaster with the onion and the cubed carrot and turnip, and add 1 cup of water. Cover and bake at 350F degrees for 2 to 3 hours. Remove from oven and take flippers from roaster. Adding 1 1/2 cups of water to the roaster and stir well Add flour thickening (See recipe at the bottom,) and stir well until thicken to make gravy. Place the flippers back in the roaster and cover with pastry (See recipe at the bottom.) Bake at 400F for about 25 minutes until pastry is brown.
Flour Thickening
Take a small jar with a cover. Place 1/4 cup of cold water in the jar. On top of the water place 2 tbsp. of flour. Place the cover on the jar and shake until the mixture is smooth Add to liquid from meat to make it thicker.
Pastry
Cut margarine into flour, baking powder, and salt until the mixture resembles bread crumbs. Sprinkle in water, 1 tbsp. at a time and mix. Gather the pastry into a ball and place on lightly floured board. Roll out the pastry to the correct size to cover the pie.
Mutually Assured Destruction Double Chocolate Oatmeal Cookies
(Make these to impress infantry and superior officers alike!)
1 1/2 Cups sugar
1 Cup margarine, softened
1 egg
1/4 Cup water
1 tsp. vanilla
1 1/4 Cups flour
1/3 Cup cocoa 1/2 tsp.
Baking soda
3 Cups Quick Oats
1 pkg. (6 oz.) semisweet chocolate chips
1 Cup chopped nuts
Heat oven to 350 degrees. Mix sugar, margarine, egg, water and vanilla. Stir in remaining ingredients. Drop by teaspoonful about 2inches apart onto ungreased cookie sheets. Bake until almost no indentation remains when touched, 10-12 minutes. Remove immediately from cookie sheet. Makes about 5 1/2 dozen cookies.
French Canadian Ratatouille of Well-Aimed Wrath
(A vegetable soup fully licensed by the government to kill!)
2 onions peeled & sliced
2 red peppers seeded & sliced
1 large eggplant, halved
lengthwise & thinly sliced
4 cloves garlic peeled & halved
6 tbsp/90 ml olive oil
6 springs of thyme
2-3 medium zucchini, sliced
4-5 medium tomatoes, sliced freshly ground pepper & salt.
Preheat oven to 350 Degrees (180Cel.). In a very large frypan (or 2 small ones) add onions peppers, eggplant, garlic and 4 tbsp (60 ml) olive oil (this large volume cooks down) COOK until onions and eggplant are softened about 10 minutes. ADD thyme and spread into a 13x9inch (3L) baking dish. Arrange zucchini and tomato slices over the top in overlapping alternate rows. Season with salt and pepper. DRIZZLE with remaining olive oil: bake 45 minutes or until zucchini is cooked. Serve with lamb, or by itself hot or at room temperature.
Acadian Sugar Pie of Environmental Exploitation
(Tastiest eaten off the corpses of your enemies!)
Pastry for 9" pie:
2 Eggs
2 c Brown sugar; packed
1 Egg yolk
2 tb Flour; all purpose
1 c Milk
Salt; pinch
1 ts Vanilla
Roll out pastry and fit into 9" pie plate, trim and flute edges. In bowl, blend sugar, flour and salt. In separate bowl using electric mixer, beat eggs and yolk till frothy; beat in milk and vanilla. Stir egg mixture into sugar mixture till smooth. Bake in 400F oven for 10 minutes; reduce to 350F and bake for about 35 minutes or till crust is golden brown and filling is set. Let cool on rack.
Barely Breathing, Bone Crushing Bannock
(An old campfire favourite!)
4 cups flour
4 teaspoons baking powder
1 teaspoon salt
4 tablespoons oil
Add enough water to achieve a bread dough consistency. You can replace a portion of the white flour with an equivalent amount of whole grain flour of choice, and include some dried fruit of choice, wheat germ, bran, and nuts of choice. The bannock can also be seasoned with brown sugar and cinnamon
Mix ingredients well and knead for approximately ten minutes. Grease and heat a fry pan. Form the dough into cakes about 1/2 inch thick and dust lightly with flour. Lay the bannock cakes in the frying pan and hold them over the heat. Shake the pan at intervals to prevent the bannock from sticking to the pan. Once a bottom crust has formed and the dough has hardened enough to hold together, you can turn the bannock cakes.
Cooking takes 12-15 minutes. Test whether or not the bannock is ready by inserting a clean toothpick or sliver into the loaf. If it comes out clean, the bannock is ready to eat.
If you don't have a fry pan you can make a thicker dough by adding less water. Roll the dough into a long ribbon, no wider than an inch. Wind this around a preheated green hardwood stick and cook over a fire, turning occasionally, until the bannock is cooked.
Realpolitik Canadian Maple Dumplings
(Maple syrup makes good dumplings even better!)
Dumplings
450 g (2 cups) all-purpose (plain) flour
225 ml (1 cup) milk
20 g (4 tsp.) baking powder
60 g (4 tbs.) butter
Pinch of salt
Syrup:
450 ml (2 cups) 100% Pure Maple Syrup
225 ml (1 cup) water
Pinch of salt
100g (1/2 cup) raisins (seedless) (sultanas)
Mix all-purpose (plain) flour, baking powder and salt. Sift together. Cut in butter with 2 knives or pastry blender. Add milk and stir to obtain a smooth paste. Drop thick dough, by spoonfuls, into boiling Pure Maple Syrup and allow to cook 20 minutes without removing lid from the pan. Serve with the Pure Maple Syrup, thickened if desired, to which raisins (sultanas) have been added. It is very important to add the milk to dry ingredients at the last minute when Pure Maple Syrup is ready to start cooking dumplings.
Maple Syrup Pudding of Strategy Policy
(When your well-reasoned arguments aren't enough, use pudding!)
Pudding:
450 g (2 cups) all-purpose (plain) flour
20 g (4 tsp.) baking powder
5 g (1 tsp.) salt
160 ml (3/4 cup) liquid (water or milk)
60 g (4 tbsp.) butter
Sauce:
450 ml (1 cup) 100% Pure Maple Syrup
100 ml (1/2 cup) water
Pinch salt
10 g (2 tsp.) cornstarch
Sift flour, baking powder and salt, 2 or 3 times. Cut in butter with 2 knives or pastry blender. Promptly add liquid and handle as little as possible. Roll out 1.5 cm (1/2 inch) thick. Butter lightly, sprinkle with sugar. Roll like a jelly roll (sponge). Cut into slices 2 cm (3/4 inch) thick. Bake in hot oven in sauce made with Pure Maple Syrup, water, pinch of salt, and cornstarch.
Power to Manipulate Butter Tarts
Recipe courtesy: Ginny
(the simplest recipes are the most deadly)
1 c. brown sugar
1 c. raisins
1 egg (beaten)
butter (about the size of an egg-melted)
1 T. water
1 T. vanilla
pastry shells
Beat egg, add sugar, beat some more. Add water, vanilla, raisins and butter. Drop into shells that have already been baked. Fill them half up with the mixture. Bake at 450 for 15 minutes. Feed to the Canadian masses.
Peter Downey's CANDU ThermoNuclear Bombs
Recipe Courtesy: Peter Downey
(Good for snacking while stuck in the trenches!)
Eat two or three squares of this and you'll have more energy than Captain
CanoeHead, ready to trash imperialistic pro-American pig dogs.
Note: there are no measurements. Just fake it. It'll be ok. At the very
worst, you'll need a spoon.
You need:
-a pan
-graham cracker crumbs.
-1 can condensed milk. We recommend Carnation or Cow brand.
-1 bag chocolate chips (may be any variety. it doesnt matter.)
-1 bag chopped walnuts.
-butter or margarine
-1 bag shredded coconut (optional. Mom says coconut is good for me. yuck.)
1. Get a pan. Any pan. Something you can put into the oven without it
breaking or mom getting mad.
2. Pre-heat oven to some very hot temperature. Whoa! Too hot. Ah. right there. (like 375 @F <--- please convert to metric. my oven only has imperial as it is plunder taken from my last pillaging expedition to Buffalo.)
[It's 190.5556 Celcius -- CWD]
Stick the pan on top of the stove element with the vent so it gets warm.
3. Dig out Great White North by the McKenzie Brothers. Featuring Geddy Lee, lead singer of RUSH. Let the pan heat up for the entire length of "Take Off To The Great White North"
4. Melt enough butter or margerine in the bottom of the pan (which should be nice and buttery melting warm) to form a film of buttery goo about 1-2 mm thick.
5. Sprinkle the graham cracker crumbs over the buttery goo. It must be thick enough so that the buttery goo is just seeping through. Think graham cracker pie crust here. (But buying one in the store is JUST PLAIN WRONG!!)
6. The graham cracker crumbs should be that dark moist colour. But if you can poke the crumbs and they go squish.. add more graham cracker. Moist. Not squishy.
7. Pour the can of condensed milk over the graham cracker base. We want a nice, thin film... too much and it will never get to the ungooey phase. Which is optional but not recommended.
8. As you might as well guess, dump the rest of the stuff on top to suit. We recommend layering the chocolate chips around the coconut and walnuts.
9. Slam that pan in the oven. Take out when the condensed milk is just beginning to boil through and turn a nice golden brown. At this time, the outside rim of the pan may have progressed further into the "burnt" phase, but several of my compatriates have indicated that this is indeed the best part. Chacun son gout.
10. Put the pan into the freezer (or just leave outside. It's Canada.) for 20 mins for the goo to solidify. Take out, cut into squares.
Eat.
In moderation.
Not before bed.
Horrifyingly Hearty Wienie Chowder
(So hearty you'll feel like a lumberjack!)
4 wiener, cut in 4 slices each
1 stalk celery, sliced
1 can (10 oz/ 284 mL) condensed tomato soup
2 cups (500 mL) milk
1/2 cup (125 mL) frozen corn
1 cup (250 mL) MINUTE RICE Brand Rice
COMBINE all ingredients in a large saucepan. Bring to a boil, stirring frequently.
Cover, simmer 5 minutes. Add pepper to taste.
Opium for the Heathens - Coca Cola Barbecue Sauce
Recipe courtesy: Kirsten Anderson
(Caffeinated sauces are an excellent pick-me-up!)
2 tbs.. unsalted butter
1 onion
3 cloves garlic, minced
1 bay leaf, crumbled
2 cups ketchup
3/4 cup Coca-Cola (not diet)
1 tbs.. Worcestershire sauce
1 teaspoon Dijon mustard
2 teaspoons red wine vinegar
red chile flakes or Tobasco to taste
salt and pepper to taste
Allow the coke to go flat...Melt butter in a medium saucepan over
medium-low heat. Add onion; cook 1 minute. Add garlic; cook 4 minutes
more. Do not brown. Stir in remaining ingredients. Heat to boiling;
reduce heat. Simmer, uncovered, stirring occasionally, 1 hour. (Y'all
don't need instructions for using barbecue sauce, do you?)
Liz's "Pets de Soeurs" (Nun's Farts)

Recipe Courtesy: Liz
This very traditional Northern Ontario treat is made with left over pie dough,
because a good Canadian wastes nothing.

Ingredients:
Pie dough
Butter
Brown Sugar
Cinnamon

There are no real measurements. Roll out extra pie dough.
Spread with butter (or margarine)
Mix Brown Sugar and cinnamon ( about 3 to 1)
Spread mixture over dough. Roll dough up like a poster. Cut into 2 - 2.5cm sections. Bake on a foil lined baking sheet at what ever temp. the pie recipe calls for until golden brown.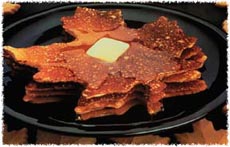 The correct shape for pancakes.
(As determined by CWD's 'Cooking Standards and Practices' Committee)
Ever made something with beer or maple syrup?
Send us your patriotic recipes!

Content copyright © 1997-2000 Generals Claire & Jenny, Canadian World Domination.
Unauthorized duplication leads to punishment.