Canada Day in Ottawa: One Large Bounce Towards CWD's Global Reign
Parliament Hill's Majestic "Peace Tower" - July 1, 2000
The sky was clear - So was our agenda!
Canadians from across the country met in Ottawa to plot our loving and gentle tyranny.

---
Comrade Kitty Subdues America's Civil Servant Minions!
Kitty bravely demonstrates Canadian resourcefulness and courage. After disarming the suspicious American embassy officials with cheery banter and polite smiles, Comrade Kitty was able to improve the U.S. government seal with her very presence. Do you have a foreign embassy or consulate where you live? Get over there and inform the staff they will soon have to order stationery with "Government of Canada/ Gouvernement du Canada" on it.
---
Comrade Kitty Utilizes Each and Every Opportunity for Propagandic Exercises
It's always a good time to promote the news of Canadian World Domination! Pavements, billboards, water towers -- all part of the sprawling urban canvas for artistic expression (of a state-approved manner)!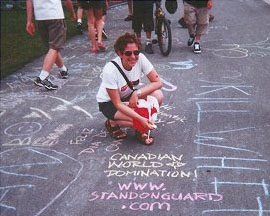 ---
Comrade Lance Poses in Shadowy Shadowness
Lance and partner Constable Loon demonstrate stealth techniques to adoring Canada Day crowds. Take notes friends, foreign powers never seem to notice our Canadian operatives. Is it the use of concealing shadows at appropriate moments that is so effective? Is it the trustworthiness of the RCMP uniform that causes inquiring minds to stop all that inconvenient inquiring?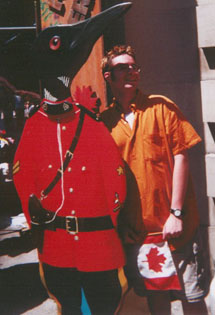 ---
The Littlest Patriot Cheers on the Generals
Children, a long-neglected political demographic, are resoundly in favour of your Generals' plans. "Socialized health care programs," chanted one tiny tot. "And animal crackers for the proletariat!"